How Writing Will Help You Figure Out Your Confusing and Painful Marriage
If you are tangled up in a confusing and painful marriage, one effective strategy to gain a solid footing (and eventually a voice) is to write things down. It doesn't matter if you are a good writer or not. Your purpose isn't to win a Pulitzer Prize.
When a stressful or emotionally draining incident happens in our relationship, our prefrontal cortex (the part of our brain that is creative and thinks through things and solves problems) shuts down, and our amygdala (the part of our brain at the base of our skull that notices danger and puts us into flight, fight, freeze, or fawn mode) gets revved up.
Writing slows it all down and allows us to complete the stress cycle by feeling into our bodies and accessing different parts of our brain through the physical act of writing as well as thinking through what we want to set down on paper.
Here are three important things you can record on paper (or on your computer) that will be tremendously helpful to you over time.
1. Write down the incidents that stir your emotions.
Try to do this as soon after the incident has occurred as possible. This is important because if the conversation triggers big feelings in your body, you will likely forget much of what took place shortly after it happens.
You won't necessarily want to write down what happened because it often goes against what your brain is invested in believing is true. For example, on a subconscious level, your brain may want to believe you married your best friend and that he is really a great guy who only once in a while goes off the rails.
So when you start writing down what actually happened, it forces your brain to look at reality from an objective standpoint. This can feel uncomfortable at best and devastating at worst. We don't like to feel icky. We'd rather just gloss over what happened and believe it wasn't a big deal.
And maybe it wasn't. But writing it down to read later will help you figure that out.
You'll want to write down everything you can remember. Body language, words used (on both sides), your emotions at the time, any background information, thoughts that were running through your head, things you suspect but don't know for sure, as well as things you do know for sure.
Sometimes you won't have time to write much. That's okay. Just writing a few key things about what happened will help jog your memory in the future when you go back to look for patterns of behavior; both your patterns as well as their patterns. When you read your journal six months to a year later, you'll be able to see those patterns more clearly and then make decisions about whether or not you want to change any of them…and how.
I like to set a timer. My brain says "Oh no – this is going to feel icky." But if I set a timer, I can say "I'm only going to write for ten minutes. Then it will be over and I'll move on."
But if you don't have any time, even just writing down the date and the word "incident" will, at the very least, help you see how often these kinds of things are happening.
What About Love Keeps No Record of Wrongs?
Although I had kept journals since I was in high school, I rarely wrote down bad incidents that happened in my marriage because I believed that the verse "love keeps no record of wrongs" meant if I loved my husband I would try to forget anything negative that happened between us.
That was probably the key reason I stayed in denial for two decades.
It was actually my excuse to avoid facing the emotional pain of what was happening. When an incident occurred, and the pain was real and present, it was like jumping into Lake Superior. An icy shock. But then I'd climb out and try to pretend it didn't happen, or it wasn't as bad as it felt.
I would cooperate in sweeping it under the rug and moving on. It felt better to take my mind off the pain and focus on the good things in my life. On rare occasions, I wrote something down because it was so awful, but I'd tear the pages out of my journal later because I consciously made the choice to forget the details. I thought I was doing the "Christian" thing.
I spiritualized my denial, got the support of well-meaning Christians, and that all made me feel better. But it also kept me stuck.
Why Does Writing About Our Conflicts Help?
Putting your experiences in writing will enable you to see patterns of behavior on both sides from an objective, bird's eye view. Obviously, things are bad. Nothing is resolved. You want to know why.
You need to figure out where the loops are and what is triggering them.
When we are in the heat of the moment, the frontal lobe of our brain shuts down. This is the part of our brain that thinks and reasons. You go into a fight or flight mode, and depending on your personality and past experience, your body either fights—or you check out and run away.
But your brain doesn't think clearly in this mode.
This is why you may not even be able to remember much after an incident.
But if you write down as much as you can remember, next time you may remember more. You want to stimulate your brain to slow down and notice things. Writing stuff down will help you do this.
One way you'll be able to remember more is to take deep breaths when you are in the middle of an incident. Try not to say too much. Imagine that you are floating above the situation, looking down as an observer. This will help you emotionally disconnect and have a more objective view.
This objective view will do wonders to clear up the constant fog and confusion you may feel in your relationship. As you see the patterns more clearly, you will grow more confident in your perception of things, and you will be more assertive in standing up for what you know is happening.
The goal is to eventually become so sure of what is happening, that when others try to cast doubt on you, minimize what has happened, or even tell you that you've maybe made it up in your head, you will not be moved. You know. You've got it all in writing. Lots and lots of examples.
But you need to know that you know—that you know—the truth.
2. Keep conversations with the other person and any of their allies or helpers, (i.e. Flying Monkeys) in writing.
In early 2013 I read a book called The Verbally Abusive Relationship: How to Recognize it and How to Respond. I would read it late at night before going to sleep, and I often fell asleep crying. My stomach felt like a black pit of pain, but I was beginning to recognize the fact that if I ever wanted to find a way out, I needed to pass through the oppressive process of seeing the truth, accepting it, and making the tough decisions required to deal with it.
Learning the verbal tactics of emotionally abusive individuals is extremely important. I can't stress this enough. Once you become aware of how words are put together in subtle ways to blame, shame, dismiss, avoid, lie, rationalize, and minimize, you will be able to recognize those tactics in the person you are dealing with.
The problem is when you're actually in a live conversation with the person and your stress level is high, it is harder to track these tactics on the fly. Especially at first.
It is best when you are in learning mode, to put all conversations that revolve around the more triggering subjects in your relationship in writing. This can be via text, email, or even a journal that you can take turns writing in. I recommend text or email simply because there is no danger of the other person deleting or changing anything.
You'll need your own phone and email account. If you share one only because your spouse won't let you get your own, then you are in a controlling relationship—not a mutually respectful and honoring relationship.
You are an adult.
You can have your own email account, and you don't need permission to do that as if you were someone's child or property.
What is the Benefit of Keeping Conversations in Writing?
The rewards of seeing everything in writing are numerous. First of all, you get to see your relational patterns. You can analyze what you are saying that contributes to the same old destructive dance pattern. This was life-changing for me.
For several months in 2015, I had a few people from my church listen in on some of our email conversations. (They were copied on all correspondence between my husband and me.) Even before this, I had experimented with having someone else read everything, and the feedback I got, again and again, was that I was too wordy, and I was assigning motives to the things he was doing. I was also trying too hard to get him to understand all the ins and outs of a subject. I was over-defending my stand on things as if they were possibly flawed.
Over the course of time, my emails changed.
They were never perfect (nor do they need to be – I am human), but they improved. I worked on eliminating unnecessary words. I tried to keep out my opinions and just state facts. I got better at not defending my viewpoint and instead stated it and stood by it.
I started using "I think" and "I feel" and "my view is" instead of, "you think" and "you are." And then I detached from all expectations of how he might respond. I got to the point where I accepted that he could respond or not respond however he wanted. He didn't have to respond the way I wished he would. If he empathized, great. If not, no surprise. If he responded, fantastic. If he didn't answer, no surprise.
I began to grow up.
I found dignity for myself, and I didn't need my husband to give it to me. God did. And God wanted me to give it to myself, too.
I also began to grow a better idea of how my husband and I were two separate people making our own choices. I used to think we were linked in that mysterious union of "oneness" just because we signed a marriage contract. His choices were somehow linked to me and vice versa.
Now I see that oneness happens when two people invest in building that kind of intimacy. That never happened in our relationship, and I had to let go of my longing for it and accept and live in reality.
Recognizing my separateness from my husband was a huge step toward better emotional and relational health.
Learning How to Identify Abuse Tactics
The other amazing perk to having conversations in writing is that you get to see the other person's tactics in black and white.
You can read them and analyze them through the grid of what you've learned in reading books like The Verbally Abusive Relationship, Who's Pushing Your Buttons?, and Foolproofing Your Life. (All books that were pivotal in waking me up and helping me turn the wheel of the ship in the other direction.)
So phrases and words that would normally confuse me, put me on the defensive, and distract me from the original conversation, now popped out at me as specific tactics with names and definitions.
I wasn't feeling as confused or even as defensive. I could calmly and objectively look at his words in black and white and realize: "Oh! He is minimizing his responsibility here. He is denying it here. And here he is only telling part of the story and leaving out the part I asked for. This is not a "me" problem. This is a "him" problem. It's his problem to solve. Not mine."
So take that last tactic—giving partial answers. Normally I would say something like, "You are trying to control me by leaving out the information I asked for and only giving me part of it. You're confusing me."
This would then continue the negative nature of the conversation and put him on the defensive again.
Eventually, I would respond (in writing) with something more along the lines of, " I asked you ________. I still don't have the answer to my question. Please let me know the answer by ______ time. Thank you."
I would wonder why he was employing this tactic, and I might have even thought I knew why, depending on the circumstances. But that is only important and workable in a normal, healthy relationship where two people are invested in the care of the other one.
In a dysfunctional relationship, the only important thing is getting the answer to the question.
Someone once introduced me to the phrase, "transactional relationship." Exactly. That means there is no two-way, mutually respectful, honoring, intimate connection, so why pretend there is?
Just get your business taken care of and move on.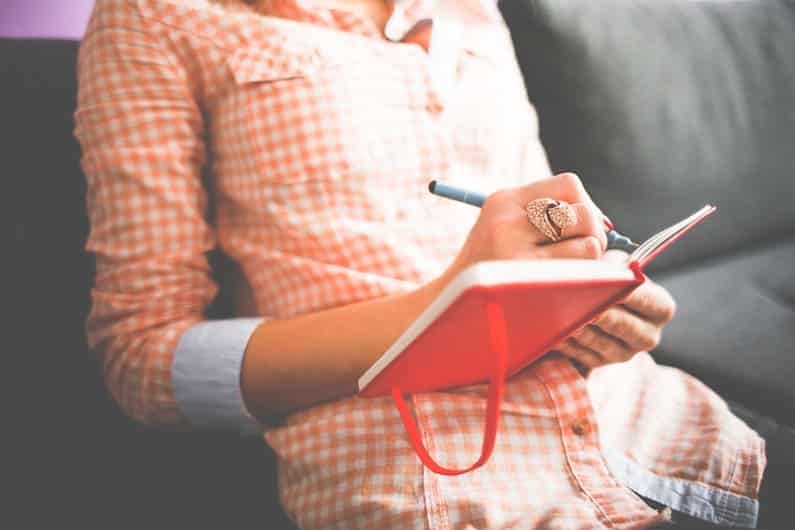 3. Journal Your Journey
This might sound like the first one, but it's not. Number one is about writing down the specific incidents you encounter with the other person. Journaling your journey is more about everything else in your life. But mostly it's about what you are learning and how you are growing.
In my journal, I write down quotes from books I'm reading, verses that pop out at me from reading the Bible, incidents that happen to me with other people, including my kids, that relate to things God is teaching me, "Ah-ha!" thoughts that run through my head as I'm driving or getting ready for the day, etc.
Again, you don't need to have nice handwriting. You don't need a fancy journal.  And many of my entries are short and sweet.
How Does it Help to Track Your Journey?
When I look back at past journals (pre-electronic days!), I can see the thinking patterns that kept me stuck in my situation. My motives were good – I wanted to be the best wife and mom I could be – but looking back I can see how much of an idol those things were. How much I tried to be perfect and beat myself up every day for failing. I can see the depth of fear I dealt with and how many of my choices were rooted in this fear.
If you take just 5 minutes at the end of each day to quickly jot down anything significant that you learned, thought about, or experienced— over the course of a month you will have invested 2 1/2 hours of recording your life, and you will be surprised to see what you've learned and how you've grown in just one month.
Over the course of a year, you will have invested 31 hours, and the insights will be invaluable. And encouraging!
The other beneficial thing about writing stuff down is that when it comes time to explain your story to others, you will have already processed it in various ways and will be able to clearly articulate the main points. This doesn't mean people will listen and understand, but it does mean you will have done your best to communicate it. And that's all you need.
I'm at the point where I no longer try to explain my story to the "locals." I've done that, and I did it the best I could. What they believe is their business and has no bearing on the truth or what I choose to do with what has happened or what continues to happen in my life.
You are a witness to your reality, and that is enough. The only Judge that counts is your Heavenly Father. And He knows it all and remembers it all better than we ever could.
If you would like more intense support and education as you walk through your own confusing and painful marriage, I encourage you to check out the Flying Free program.